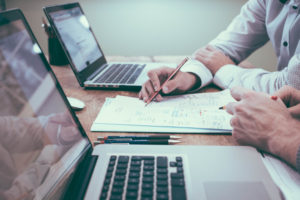 How can my Houston business benefit from managed IT services?
If you are a business owner in Houston, one of the most beneficial things you can do for your company is invest in managed IT services and network security. These two investments are absolutely crucial for the wellbeing of your data, and for the wellbeing of your mental state as a business owner. Without these two crucial network security steps, you leave yourself vulnerable to loss of data, or even worse, hackers. Working with an outsourced IT management service company allows you the comfort of knowing that your data is safe, and your network infrastructure design is efficient and secure, which therefore allows you to place your focus on other important matters.
Because some companies like to keep all of their management in-house, they often think that their cybersecurity and IT management services can be handled the same way. But working with an outsourced service allows you the most up-to-date and most effective software possible to combat security issues within your data network. Insights.dice.com lists all of the potential obstacles you and your company may incur should you choose not to follow through with managed IT services and a stable network security plan. One consequence is the obvious which we have already addressed: the vulnerability you open your company up to with hackers and cyber criminals. Cyber crime is at an all-time high as of late, and it is becoming stronger by the day. Every time cybersecurity experts come up with a new way to keep hackers out, cyber criminals are hard at work trying to find a way around these walls. Without the proper expertise, knowledge, and software, it's sad to say that your company is no match for their cyber capabilities. Cybersecurity experts make it their job to figure out what exactly they need to be protecting against, which is a practice that everyday business owners may not keep. Cyber criminals are smart in the sense that they know how to lure and trick their opponent to get what they want. Cybersecurity experts know what to avoid, and what to focus on.
It is exactly this sort of strategizing that makes a managed IT solution so important for business owners. Cybersecurity experts, like the BFA Apple consultants, have the experience on their side to protect you and your data from threats you may not have thought of. They work with your business to formulate a plan that encompasses both your concerns, as well as the issues you may not have thought to consider. Outsourcing your network security guarantees that things like critical data exchanges are well cared for and looked after. This also allows your company the benefit of having someone you can trust to answer any questions you may have. There are many things you can do yourself, but managing your network security and protecting the data of your company are not tasks you want to try to do alone. One wrong move, and your entire business could be at risk. That is why having a support system, such as IT management service, is so vital and of such great importance.
There are other steps you can take to protect your business too. Almost everyone shops for things online nowadays, and therefore if you want customers to choose your products and services then you need to make sure that your eCommerce website and the software that it uses are safe and secure. Consequently, one way to protect your website is by setting up a subscription-based business model. Put simply, when operating a recurring payment model, your customers only need to set-up their payment details once and they can then enjoy the service without lock-in contracts or actively needing to make the effort of payment again. Comparatively, your business gets a steady cash flow and a reliably forecasted revenue. You can even make savings on staff and administrative resources. Understandably, this model works particularly well for businesses that offer software and other digital services. Accordingly, between the PCI compliance and tokenization used by payment gateways, you can get peace of mind that your customer data is safe.
NSC IT Group is happy to provide all of these network solutions to our Houston businesses. Our number one goal is to make sure that your data is cared for and, more importantly, kept private. If you own a business in Houston that you are ready to equip with outsourced IT management services, give us a call. We'd be happy to set you up with a network security solution as soon as possible.