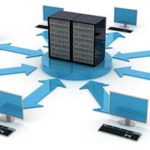 Scammers are always on the lookout for ways to perpetuate their thieving. Unfortunately, the Internet has given them new methods to find and cheat their victims. Houston network security is robust, but it is still easy for scammers to contact you via email. If and when they do, you must be able to recognize the potential threat and know how to deal with it. Many of us get into the habit of replying, saving or clicking without really examining the source of the email. That tendency can turn into a complicated nightmare that ripples through your credit cards and blemishes your credit history.
In most cases, the scammers hacked a site that you use regularly. Then, they stole personal data from the customer database. Sometimes, other hackers acquired the data and sold it to con men who will use it for their own nefarious purposes. These people try to play on a sense of greed by offering something for nothing. A good starting point is to remember that if something seems too good to be true, it probably is. Some of these email scams will have you hastily calling a Houston managed IT services company for help. As a business, you do need to protect yourself from scams like this, so make sure you're as protected as possible. If you still get targeted by scammers who can access your business finances, you might want to get in contact with a forensic accounting firm, like Eide Bailly, who could trace the details of financial reports and cybersecurity breaches, helping your business to provide evidence to the insurance company.
Here are some of the most common types of email fraud that you might encounter and how to deal with them. Make sure all of your employees receive proper training to identify all types of email scams and how to deal with them to protect your business.
So-called "phishing" scams are usually disguised in an email that purportedly originated from your bank, your credit card company or a site where you regularly conduct business, such as Amazon or eBay. The email will prompt you to update your personal information or change your password. Once they have your data, the scammers will commit identity theft. They will use your good credit to get new credit cards. By the time you realize what has been occurring, they have already moved on to their next victim. No legitimate company will ask you to submit your password, complete Social Security number, or other confidential information via email. Usually, since most of these scams originate from other countries, you will see incorrect grammar or misspelled words. You should also check the website address. Fake sites with registered domain names that are slightly different are a give-away. Sometimes, they substitute an "n" for an "m" or change the website extension. Just delete these emails. However, certain phishing scams could be difficult to identify. This is why you may need to look for advanced email security software like Abnormal Security that can prevent phishing and other targeted attacks that can protect email data and secure your business from phishing and other targeted attacks.
Advance fee schemes are another popular scam. They are also called Nigerian bank scams. The email will tell you that a son or relative of a recently deceased prominent politician has a very large check from an American bank that he cannot cash because he is in Nigeria. If you would be so kind as to deposit it in your bank account, he will share the money with you. If you agree to "help," you will be asked for your personal and banking data. Then, your accounts will be emptied. To make it even worse, some of these scammers will ask you to pay the fees to transfer money to them. Report these scams to the Internet Crime Complaint Center.
The lottery scam is a classic. You receive an email saying that you won a large sum of money in a lottery or sweepstakes that you know you did not enter. All you have to do to claim the winnings is to pay the tax. Forward any such emails with their full headers to the postmaster at the address from which the message originated.
A particularly heinous type contains a link that takes you to a site with malware that freezes your computer. You must pay a ransom to get the key to unlock the files on your computer if you do not have adequate Houston backup and disaster recovery in place.
In general, you should never click on any link, offer any personal information or reply to any of these emails. NSC Information Technology Group can assess your Houston network security, including your firewall, and recommend anti-virus software that will safeguard your company. Contact us at 713-974-3889.