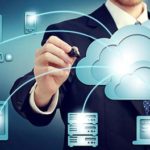 Houston enterprises of all sizes in today's world are increasingly recognizing the benefits of utilizing cloud services. Rather than incurring the expenses of managing data infrastructures in-house, cloud services offer a less costly, more scalable, and persistently updated way of leveraging software solutions. The process of integrating cloud services with existing systems, however, can be costly, so working with a managed service provider that specializes in bridging the gap between enterprise and cloud assets can be the right choice in many situations. Many Houston managed IT services are industry-focused, and they can provide assistance with the managerial, strategic, and technical aspects of using cloud services.
Traditional Challenges with the Cloud
Especially among small and medium-sized Houston businesses, cloud application adoption continues to grow. While cloud services can help to eliminate much of the overhead associated with data systems management, the utilization of cloud resources can still entail working with complex APIs, unintuitive network security, and challenging learning curves. Managed service providers help to alleviate many of these inherent challenges by offering middleware solutions that help simplify integration. When challenges arise, managed service providers generally offer experienced staff members who have extensive experience integrating particular solutions in similar applications. In some cases, Houston cloud integration services can even offer packages that come with an optimized mix of software and services for more rapid, effective deployment and maintenance.
Benefits of Managed Service Providers
Many businesses choose to use managed service providers to help reduce the complexity of working with cloud services. Unfortunately, many service providers seem to expect their clients to have an in-house IT team capable of managing the challenges of deployment, maintenance, and customization. Since many cloud assets are complex, enterprises could consequently realize only marginal benefits by moving to the cloud. Therefore, managed service providers offer the benefit of simplifying integration in a wide range of applications. From simple deployment to complex customization, managed service providers can help to reduce or eliminate the traditional problems associated with moving applications to the cloud, and with the help of an ipaas platform, this interconnectivity can be made much more efficient.
Importance of Security
Another major benefit of working with a managed service provider is the reduced risk associated with deployment. With millions of businesses moving to the cloud, hackers are taking advantage of this proliferation to design malware capable of simultaneously targeting all users of a particular cloud solution. Since enterprises rarely possess enough expertise to determine how to ensure rigid security when working with specific assets, employing a specialized service like Radware can greatly reduce the risk of experiencing a data breach, so why not take a look at this site to find out more information. In fact, many Houston network security service providers are willing to offer guarantees or insurance to certify the validity of their security claims. Enterprises that work with a managed service provider, therefore, can rest assured that their systems are secure and protected from potential security threats.
Efficiency Optimization
The realization of utility is generally the primary benefit of using cloud applications, and many enterprises, therefore, fail to take full advantage of cloud deployments due to an excessive focus on cost reduction. Cloud assets can help streamline processes, increase conversion rates, and improve the accessibility of data-driven decision-making. Therefore, the strategic planning services offered by managed service providers can help businesses improve the overall efficiency of a cloud deployment. Optimizing system efficiency can help to reduce errors, improve interoperability, and drive additional revenue. In fact, planning with the help of seasoned experts can even help to eventually reduce the long-term cost of deployment due to the reduction of redundancies and the greater useful life of the final implementation.
Working with Managed IT Services
Selecting the right managed service provider is essential for businesses seeking to get the most out of a cloud implementation. The NSC Information Technology Group offers a full range of IT management services to help enterprises plan, execute, and maintain advanced cloud systems. Contact the NSC Information Technology Group at 713-974-3889 to get more out of implementing a new or existing cloud deployment.