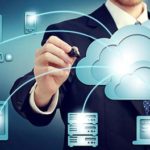 For any business, one of the worst things that can happen is to lose your valuable applications and data due to a sudden computer outage. Such a disaster can cause the wheels of your company to grind to a halt leading to a lack of productivity, lost sales and unnecessary expenses to rectify the situation. There is no magic bullet that can solve the problem, but a Houston network security service can help you implement measures that will minimize your downtime and recover your data quickly. Any business that relies on its computer network would be remiss to not have a data disaster recovery plan in place for such a calamity.
While there may be inexpensive cookie-cutter options for Houston backup and disaster recovery, it is better to have your system carefully examined by a qualified professional. That way, you can avoid wasting money on expensive programs or inadequate solutions. Here are several tips that will help you make your customer data, company files and custom applications safe.
You should be aware of your mission-critical programs and data. In the event of a catastrophe, you want to have them backed up and available to your IT team. That way, your recovery can as painless as possible. For most companies, only 20 percent of their data is absolutely essential and requires the most stringent safeguards. Prioritizing your data is a critical first step. It is wise to have your disaster recovery system stored remotely at a Houston managed IT services firm and a cloud-based storage site.
By determining an acceptable time period for disaster recovery in advance, you can choose the best storage media for your needs. Having a system in place ahead of time will ensure that you get up and running as quickly as possible. Recovery should not take hours. You should be back in business within minutes if you plan ahead.
Test drive your recovery plan. Document the steps that need to be taken. See how long it takes to actually implement your strategy. Make a list of the possible threats to your system and how recovery from each would vary. This could include natural disaster, operator error or hardware failure. If you have on-site servers that use different operating systems like Linux, IBM or Windows, test your plan for each type of OS regularly to ensure that it works as it should. Audit your data so that you can be sure that it is all being recovered.
Be certain sensitive information is encrypted. This will thwart hackers who intend to steal credit card data and other personal information. Encryption can prevent a media fiasco and the resultant loss of confidence by your customers. Ensure that the encryption keys are inaccessible.
Back up your data frequently. Your IT team can schedule automated monthly or weekly backups to a designated disaster recovery site or cloud storage. You should have three copies of your data stored on two types of media with at least one offsite storage location. This is called the 3-2-1 rule. For this purpose, you could also incorporate storage options such as CloudReady for the business. This might reduce the IT risks and improve backup recovery. A remote location should be distant enough that it would not be affected by the same natural disaster that might befall you. Cloud storage is a perfect solution. If you are not sure what data storage solution would be best and how to do it with your system, you may want to check out the Timescale blog post for help.
Data protection is only the beginning of disaster recovery. To ensure that your employees can continue working, make certain that your applications are easily recovered.
NSC Information Technology Group will consult with you to devise the best disaster-proof recovery plan for your business. We provide off-site storage and cloud services. Give us a call at 713-974-3889 to discuss your company's data storage system and how we can implement an effective disaster program that is right for you.